The swinger lifestyle, as many would call it, is growing in popularity particularly in the United States. Because divorce rates continue to skyrocket, many couples are looking for unconventional ways to mitigate relationship damage and eventual separations. The swinger lifestyle is an alternative relationship that may help some couples navigate the sometimes treacherous waters of marriage and dating.
But what is a swinger lifestyle? How does it work? Are there places to find likeminded swinger friends?
We'll get into those questions and more. 
What is a "swinger lifestyle?"
Swinging is the act of participating in a non-monogamous relationship.
The swinger lifestyle is living life, with a partner, in a world where others enjoy sharing partners. These worlds can be virtual or non-virtual. We'll get more into swinger websites and resorts later.
For most Americans, the idea of including other people in a physical relationship with their significant other seems not only counterintuitive, but also egregiously reckless. That's because the concept of marriage embeds in religious ideals which permeate our mainstream cultural thinking. This monogamous line of thinking feeds down into dating.
In simple terms, the swinger lifestyle remains a counter-culture movement due to its inclusion of other partners in a physical, sexual manner.
But some would argue that traditional marriage is failing. According to Pew Research Center, there's been a defined, yet humble, decline in overall marriage rates. In 1995, 58% of people got married compared to 53% in 2019. This is driven by increased cohabitation where couples opt to delay, or outright decline, marriage.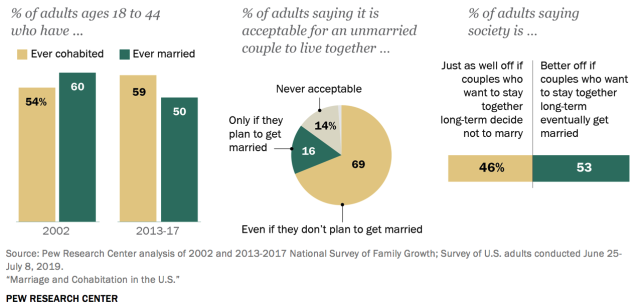 Obviously, some of these cultural shifts are explained by younger adults being less tied to religious boundaries. But it is difficult to deny that avoiding marriage can sometimes insulate a couple from the potential divorce that almost 50% of marriages endure.
In a swinger lifestyle, you could be a part of a couple who is looking to experiment / share sexually with another couple, or a single person, or two single people. You could, of course, be the single individual looking to share physical energies with an open couple.
Some people call swinging "an open relationship."
No matter how you describe it, swinging is becoming a more cultural acceptable option to divorce. In other words, if your marriage is on the brink of failure, would it be so bad to gie the swinger lifestyle a go?
You're probably wondering how swingers meet, where they connect, and how they interact.
Do swinger lifestyle websites exists?
The header mainly answers the question, "how do swingers meet?" Today, like most of the dating world, swingers leverage swinger lifestyle websites to connect.
The upside to swinger lifestyle websites is that you and yours peruse opportunities from the comforts of home. You both mitigate some risks by allowing messaging to work through virtual means, such as app messengers and maybe text.
The downside is that even in online dating, there are risks if you don't follow safety protocols. For example, never give out personal or private information and don't meet random people for the first time without vetting them and without setting up a public meet spot. Moreover, always tell someone not going with you where you are going and when you should return.
Swinger lifestyle websites allow couples to filter down their needs. They also help new swinger couples learn about swinger events.
Is it possible to meet swingers without using a swinger lifestyle dating app?
Of course it is, but it could be more challenging.
What about swinger lifestyle resorts?
Swinger lifestyle resorts help unite like minded couples and singles in a destination.
The swinger lifestyle resort business is thriving, as you might imagine. From Hedonism in Jamaica to LLV-Club in Cancun to Bali's au Naturel, swinger vacation destinations are plentiful and, as you maybe guessed, expensive.
Resorts such as Hedonism 2 market themselves as a place where you can spice up your marriage. The place is as extravagant as it sounds.
Take a look for yourself.
Expense and safety are the two most compelling components of swinger lifestyle resorts. There are likely local swinger events in your area that won't break your bank, but you'll need to search for those.  
Beyond that, swinger lifestyle resorts tend to create a fantasy type world. Sure, swinging with your partner is a reality you've both chosen, but when your first swinger experiences take place in a Caribbean resort, you may forge unreal future expectations of the swinger lifestyle.
The swinger lifestyle is a growing community that should not be viewed as revolting against traditional marriage, rather, improving upon it. The swinger lifestyle is an enhancement that should, when experienced the right way, help couples improve vital relationship communications.