The upside down pineapple symbol, as it relates to swingers, is one of the more confusing symbols in the world.
OK, that's a bit heavy and overdramatic, but we wanted to lure you in. But in reality, pineapple swingers is a real thing and curious folks always wonder what the heck it means.
We'll explain everything to know about pineapple swingers why you see it sporadically on vacation.
They're known as "pineapple swingers." The term is growing in popularity as mainstream folks finally figure out what it means.
Keeping it simple, the use of an upside down pineapple is a call, or mark, of swingers. The upside fruit allows others who may be interested in embarking on some open relationship fun a way to recognize the likeminded. This could be people who met on a swinger lifestyle website like ours and then went on a cruise. In this case, the upside down pineapple would symbolize that the persons are into the swinger lifestyle, also.
A more direct example of the use of an upside down pineapple telegraphing swingers would be folks putting the symbol or picture on their cruise ship hotel room. Some may place the iconic image on their automobile. A swinger event may use it as party decor.
If you don't know the meaning of an upside pineapple.. here ya go!! 🤦‍♀️🤦‍♀️🤦‍♀️🤦‍♀️🤦‍♀️🤦‍♀️🤦‍♀️🤦‍♀️it means you are a swinger.. 🤦‍♀️🤦‍♀️ pic.twitter.com/6hth5dmTSl

— My Beaver's Unit (@MyBeaversUnit) February 19, 2023
There are a variety of ways to use the upside down pineapple to communicate a desire to connect with other swingers, of course.
Cruise ships tend to be popular homes for these symbols, but you can find them anywhere. And you are finding them anywhere these days. Which is why so many people increasingly ask what the heck the symbol means.
Some people may use the symbol in boisterous displays of swinger pride, while others may choose more cryptic ways.
The way an upside down pineapple is displayed may also tell us about the swingers themselves. For example, more spirited, exuberant displays convey not only a desire to connect with other swingers, but also reflect prideful, proud swingers. The more cryptic displays may convey more introverted types.
Check out this cryptic example from TikTok.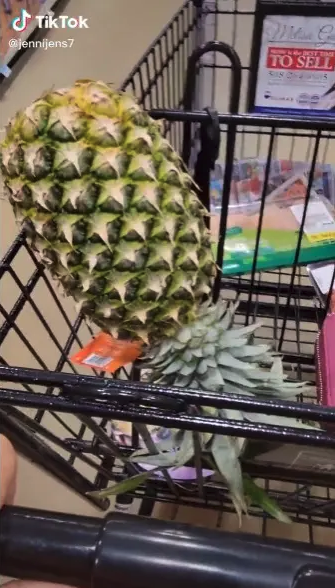 Bruh, what? Would you even know?
You now might be concerned that you've inadvertently triggered swinger vibes at Whole Foods. Maybe you have. The trend of the upside down pineapple as a swinger symbol has blown up on TikTok, so more and more people are gaining exposure to its cryptic meaning. In fact, last summer, the NY Post published an expose' on the trend.
The #UpsideDownPineapple tag accumulated hundreds of millions of views on TikTok last year.
My pineapple-themed cocktail on @pandocruises Iona last night… pic.twitter.com/KQO5ALQ2ve

— Dave Monk (@shipmonk) August 12, 2021
No one seems to understand what the history is which connects the pineapple to the swinging lifestyle. And most likely no one really knows. The pineapple itself is rather iconic in its connection with Caribbean vacations, so that's one potential reason. Some folks say the use of the upside down pineapple to symbolize swinger fun began in the 90s. But overall, it's a big mystery.
There used to be a theory that those plastic yard flamingo decors were a symbole of swinging. Many swingers indeed place these in their yards to let folks know they are down for swinging. There's also wearing a black ring on the right hand which many say symbolizes a swinger. But the upside down pineapple has become an unrivaled idol for the swinger lifestyle.
So the next time you're walking down the hallways of your Vegas vacation, or you're having a cocktail at a party on a cruise ship, and you see an upside down pineapple; you'll know where all the fun is happening. Or, you could use our swinger lifestyle website and connect with folks. Whatever floats your boats, friends.